Are you considering switching your business payroll to direct deposit, but not all of your employees have a deposit account? Or already offer direct deposit, but have a few employees that still require a check?
Our Visa&reg Reloadable Cards are a great solution! They can be ordered and personalized for your employees so you just hand them out on payday. Then, you simply add them to your direct deposit payroll file, eliminating the need for writing any more checks!
Ask a D.L. Evans Bank employee for more information.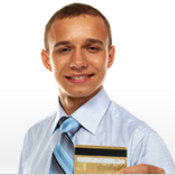 Summary

Issued for immediate use

Can be loaded via direct deposit

Order personalized cards

24 hour customer service