Getting Started with Online Banking
To get started, read and agree to the Online Banking Disclosure by clicking: "Enroll Today".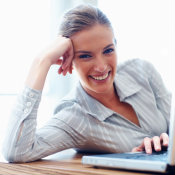 1. First Time Login Information
Enter and confirm the valid e-mail address to which you wish to receive important information regarding your account(s).

Enter your valid account number, to which you are an authorized account holder.

Select the appropriate account type, such as checking, savings, etc.

Enter your Telephone Banking PIN (if one has been established) or the last four digits of your Social Security Number.
Business Customers – Please enter your Social Security Number not the Employer Identification Number of the business. This assists us in identifying you and your online account.
2. New Access ID and Password
Enter a new Access ID (It must be at least six(6) characters in length, contain at least one number and one letter, and be different than your password).

Enter and confirm a new password (The password is case sensitive, must be at least six (6) characters in length, contain at least one number and one letter, and be different than your Access ID. You may also use special characters such as @, #, $).
3. Sensitive Security Data
Protecting your identity is so important to us that we're making it personal. With our new Authentication Image System, you will see a special image each time you log on. If the image is there, as well as your authentication pass phrase, enter your password.
Authentication Image verifies your identity in two ways:
We can be sure it's really you every time you log in.

It allows you to authenticate the site using a private

image and special phrase.
Authentication Image is very easy to use and there is no software to install. Just complete the information as instructed to enroll:
Contact information -- Confirm the e-mail address.

Image -- An image will be randomly selected. This image will appear each time you log in.

Pass phrase -- Create an authentication pass phrase that is different than your Access ID and password. Select a phrase that is not easy for others to guess; it may not even relate to the image.

Challenge questions -- Select challenge questions that are not easy for others to guess, and input the corresponding answer. Three questions will automatically appear, but you will have the ability to select different questions.
4. eStatement Enrollment
The primary account holder will be required to complete the eStatement enrollment confirmation by clicking on Accept, Decline, or Ask Me Later.
To "Accept" eStatements, enter and confirm your valid e-mail address.

Under Enrollment Status, click the appropriate bullet for Consumer or Business Checking eStatements.

Check mark the eStatement Disclosure Agreement. You may click on the hyperlink to read and print the full eStatement Disclosure.

Click on "Accept".
Once you have successfully completed the enrollment process, you will be able to access your account information by logging into www.dlevans.com.